Nationals information just sent to me by the SCTP. Its going to be a great time, don't miss out!
Targets/Entry Fees will be paid for by the team. Transportation, ammo, food and lodging are the responsibility of the shooters.
This is who I have signed up so far… I need to send in payment on July 1st so if you are on this list please confirm asap. I need to have a definite answer from everyone by this Friday, June 29, 2012. If your name is not on the list its not to late to signup!
Beardsley, Luke C Yes
Chronister, Jack C Yes
Beardsley, Mark V Yes
Cook, Dan V Yes
Dalton, James JV Yes
Beardsley, Stephanie V Yes
Gibbs, Dan JV Yes
Hayes, Ryan IE Yes
Toomey, Sam IE Yes
Filepas, Evan V Maybe
Filepas, Calvin R Maybe
Lehman, Brian C Maybe
Holiday Inn Express…$92/night (ask for SCTP rate)
St. Louis-Fairview Heights
313 Salem Place
Fairview Heights , Illinois 62208
Hotel Front Desk: 618-212-1300
Cart Rental
LITTLE EGYPT GOLF CARS
618-548-2366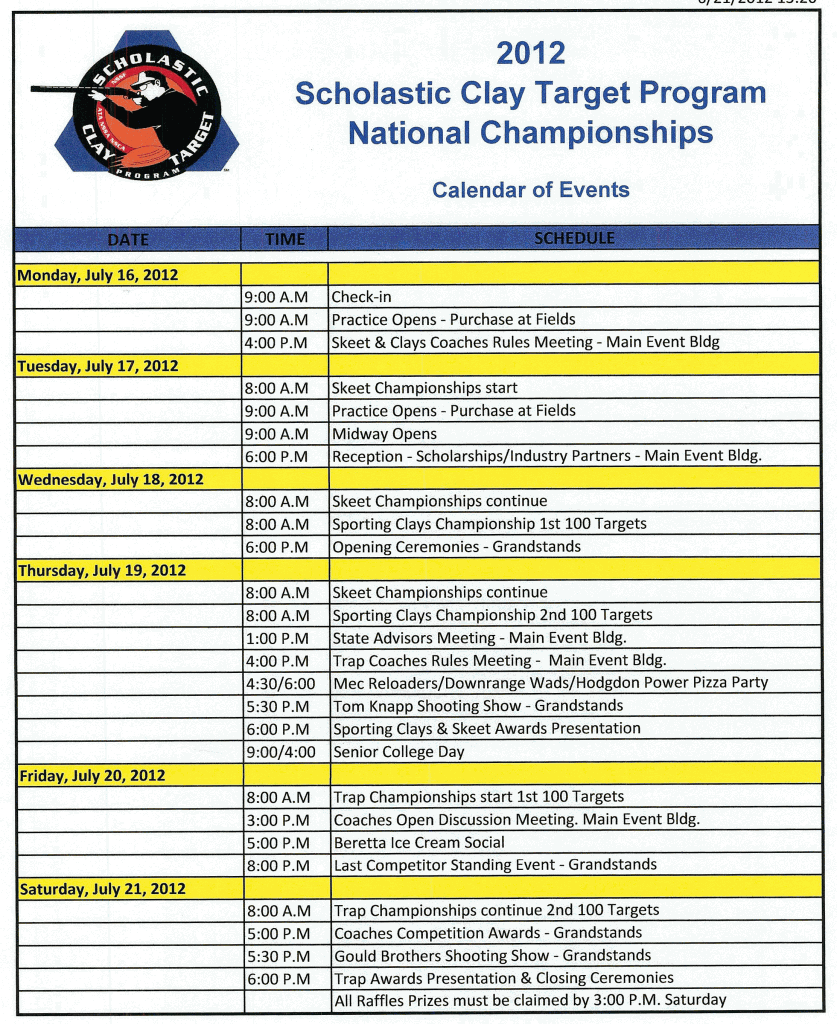 This just in from the SCTP….
· Awards – Winners will be determined by total targets broken by Squad for each Division/Category, 1st, 2nd and 3rd Places. In addition, there will be awards for Individuals and Ladies for each Division/Category, 1st, 2nd and 3rd Place.
· *High School – Trophies for 1st, 2nd and 3rd in all Disciplines for Senior Division Squads only.
· *High School HOA – Trophies for 1st, 2nd and 3rd HOA Champions determined by scores of the top three shooters from skeet and sporting clays and top five from trap from each High School – Senior Division only.
*Remember – to qualify, the National Office must have a letter on file from the High School Principal or Athletic Director stating the Team is an official sport or club of that school – NO EXCEPTIONS!
· Trap Squads will be shooting Friday & Saturday.
· Skeet only Squads will be shooting Tuesday & Wednesday. Friday for Skeet was cancelled due to labor costs and attendance.
· Squads shooting both Skeet & Sporting Clays will be:
o Tuesday, Wednesday & Thursday rotation – or a
o Wednesday & Thursday rotation
· Sporting Clays only Squads will be shooting a Wednesday & Thursday rotation.
· Every effort is being made to have your Squad shoot times and location emailed to the Head Coaches by July 10th.
· Coaches Shoot – will be HOA Individual, 1st, 2nd and 3rd Place, using scores from Skeet and Trap (25 targets each) and Make-A-Break. Total cost is $30 for all three and scores will have to be in by noon Saturday, with awards Saturady evening. All State Advisors, Coaches & Adult Volunteers that have completed all SCTP registrations steps (payment, annual background check and coach course) by June 30th are eligible to compete. No Exceptions! Sign-up will take place in the Main Event Building.
· Head Coaches – If an athlete is shooting Skeet or Sporting Clays, please make sure that the Athlete has a current NGB number and it is entered on their profile on Shooterspost.com registration before coming to Sparta.
Again, the Midway will be open with vendors and games such as the Scholastic Pistol Program, Ruger Rimfire, and much more.
Back by popular demand will be Bucket Raffle Packages set up in the registration area in the Main Event Building. Shooters will again be able to earn raffle tickets to place in the bucket of their favorite packages.