Additional information regarding the PEN-MAR Regional Youth Trap Shoot on Sunday (5/17) at Glen Rock
PEN-MAR Regional Youth Trap Shoot – SUNDAY, MAY 17, 2015

CHECK-IN BEGINS AT 8:00AM
PRACTICE TRAP OPEN AT 9:00AM ($4 FOR 25 TARGETS)
SHOOTING BEGINS AT 9:00AM
100 16 YARD TRAP TARGETS

Come in the clubhouse and SIGN IN AS SOON AS YOU ARRIVE.
Please make sure you wear your team shirt to the competition.
Please make sure your guns are clean and in good working order.
Ammo will NOT be provided by the team. Participants will need to bring at least 150 rounds of ammo with them to the shoot. You never know, you may be in a shoot off and you need an extra box. Also, we will be having a "Last Competitor Standing" for a leather bag at the end of the day so you'll need extra ammo for that.
Some things you should consider bringing to the shoot; Gun (back-up gun if you have one), Ammo (extra for practice and shoot offs), Ear Protection, Shooting Glasses (extra if you have them), Lenses Cleaner and Clean Cloth, Shooting Vest or Shell Pouch, Two Extra Shells for your Vest or Pouch, Hat or Visor, Shooting Towel, Shell Catcher, Barrel Rest Pad, Tools, Cleaning Supplies and Extra Gun Parts, Gun oil or lube, Bag to hold empty shells, Sun Screen, Bug Spray, Bottled Water and Sport Drinks, Energy Bars or Healthy Snacks, Rain Gear, Bandages and Band Aids, Folding Chairs for Spectators and Shooters.
There will be limited seating so please encourage your families to bring chairs along with them.
The practice trap will open at 9am. It will be first come first served and I expect it will be very busy. Cost is $4/25 targets. Make sure you bring additional ammo if you plan to shoot a practice round.
Parking is going to be limited, please carpool if possible.
Food will be available to purchase onsite.
We will be holding a 50/50 raffle at the shoot to try and offset some of the cost of the nice awards we are giving away at the shoot. Please let your families know and encourage them to participate.
We will be shooting 50 targets per trap. For those that have not done that before it's not a big deal. You just shoot two rounds of 25 targets at your first house then you move to your second house and complete your last two rounds of 25.
We have a full house so to keep things moving please be mindful of the time shooters take between rounds.
Awards will be handed out after all shooting is complete. If everything goes as planned that will be around 5pm. Please plan to attend the awards so you can show your support to all of the winners.
Your squad number, required arrival time, and estimated start time, is listed below. Please make sure you arrive on time, your squad mates are be depending on you.
This is meant to be fun for the kids, the parents, & everyone involved. Let's all try and remember that. Good sportsmanship is a MUST!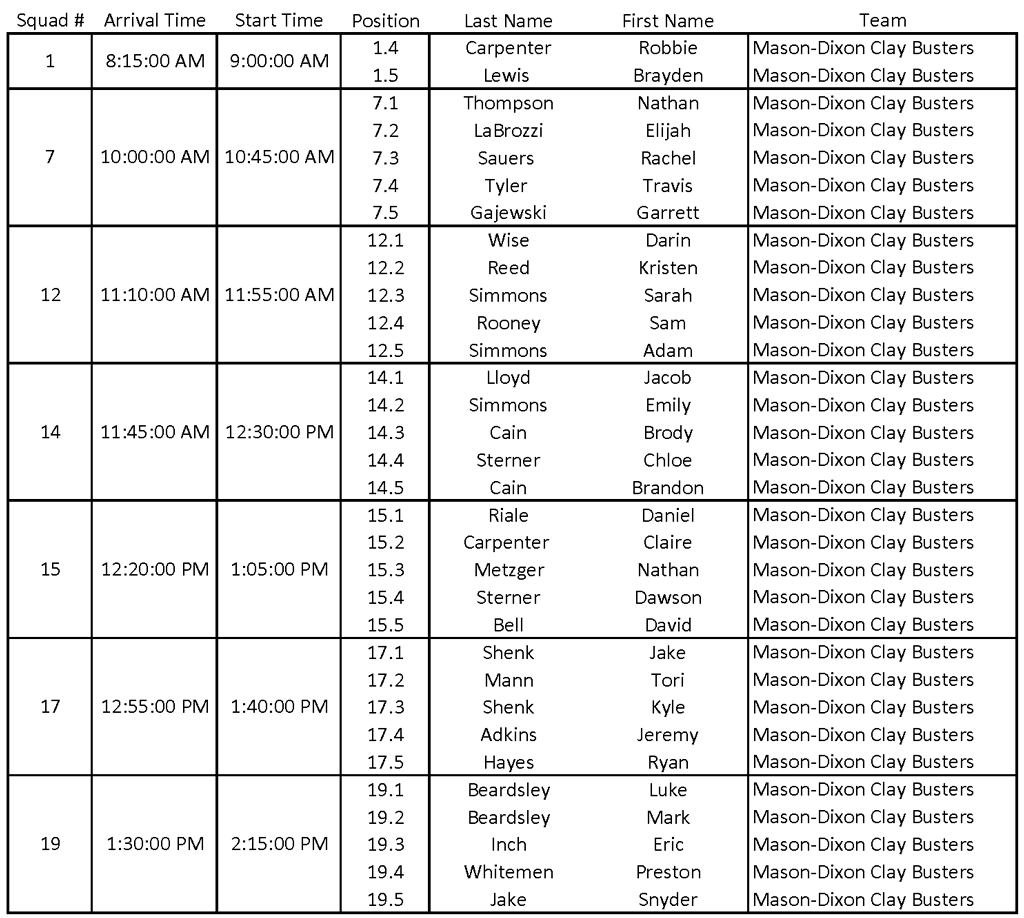 Field Supervisor
Scorers

Trap Start Time           End Time             Squad#
House 1 9:00:00 AM         11:00:00 AM       1,3,5 – Doug Pfaff
House 2 9:40:00 AM         11:40:00 AM       1,3,5  – Ted Bell
House 3 9:00:00 AM         11:00:00 AM       2,4,6 – Aaron Amick
House 4 9:40:00 AM         11:40:00 AM       2,4,6 – Dan Rooney
House 1 11:00:00 AM       1:00:00 PM          7,9,11 – Elizabeth Sterner
House 2 11:40:00 AM       1:40:00 PM          7,9,11 – Steve Beam
House 3 11:00:00 AM       1:00:00 PM          8,10,12 – Darvin Sterner
House 4 11:40:00 AM       1:40:00 PM          8,10,12 – Anne Mann
House 1 1:00:00 PM          3:40:00 PM          13,15,17, 19
House 2 1:40:00 PM          4:20:00 PM          13,15,17, 19 – Steve Beam
House 3 1:00:00 PM          3:40:00 PM          14,16,18, 20
House 4 1:40:00 PM          4:20:00 PM          14,16,18, 20

Trap Loaders (Need to report no later than 8:00am)

Jeremy Hash
Jeff Lloyd
Frank Metzger
Mark Sauers

50/50 Raffle

Chris Lewis
Kathy Simmons

Setup (Need to report no later than 7:30am)

Andy Riale
Steve Simmons
Gordon Tyler

Cleanup

Rob Carpenter
Frank Metzger
Dan Rooney

Practice Trap Safety Officer (Need to report no later than 8:00am)

Steve Simmons
Ray Gajewski

Awards

Roger Beardsley
John Elmore

Registration/Scoring

Laura Snyder
Roger Beardsley
Marcia Beardsley
Alma Rooney