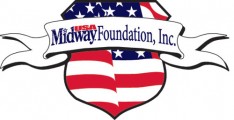 It's taken a lot of hard work but in just two short years Mason-Dixon has grown its MidwayUSA Foundation endowment account to over $100,000.
Where did all that money come from? Well for one, it came from people like you who support our raffles and provide personal donations. It also came from endowment awards that Mason-Dixon earned based on their performance at some of our state and national competitions. However the overwhelming majority of our money came directly from the MidwayUSA Foundation and Larry & Brenda Potterfield. These people have a heart and passion for what they are doing and their goal is to provide sustainable funding to every high school, college, and other youth shooting team in the United States.
 What's does all this money mean to our program? This is an endowment account, not a bank account. It means that Mason-Dixon will be able to draw up to 5% of our endowment account's balance per year for the life of the program. With our account currently at $100,000, that equates to $5,000 per year for the life of the program. This money can be used for things that we need such as practice ammunition, targets, travel, entry fees, uniforms, etc.
Where do we go from here? While $100,000 in our account and $5,000 per year sounds like a lot, it's still well short of what it costs to run our program. The more support we have for our MidwayUSA account, the more it can grow and in turn we can draw more money each year to help ease the burden on our athletes and their parents.
What can you do to help? The next time you see an email about a shoot that has endowment funds or, a raffle whose money goes toward our fund, stop and consider the short term as well as the long team benefits to our program.  With your help and support, and by us using this sustainable funding model, we will insure that Mason-Dixon will continue to provide youth shooting opportunities to the community for years and years to come!
To visit Mason-Dixon's endowment page and to see for yourself what's going on visit http://shar.es/UgDEi. For more information about The MidwayUSA Foundation, Inc., and to see the great job they are doing please visit www.midwayusafoundation.org.