The 2013 Pennsylvania State Junior Olympic Trap Championships concluded this weekend in Dalmatia, Pennsylvania at the Keystone Shooting Park.
Shooters from across the state came to central Pennsylvania to compete for top honors at the Scholastic Clay Target Program's and USA Shooting's annual state Olympic Trap championships.
Six shooters from the Mason-Dixon Clay Busters participated in the two day event. Donovan Barry, Mark Beardsley, Dan Cook, Ryan Hayes, Walter Reeves and Sam Toomey.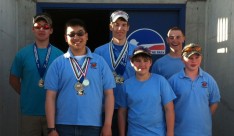 In the Scholastic Clay Target Program's (SCTP) team portion of the event, the Mason-Dixon Varsity squad of Donovan Barry, Mark Beardsley and Dan Cook finished the weekend in the top spot taking home the team's first gold medal in an SCTP International Trap team event. This first place finish earned the team $8000 for their MidwayUSA Foundation Scholastic Shooting Trust endowment account!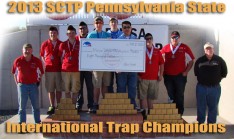 Running concurrently with the SCTP's team event this weekend was USA Shooting's Pennsylvania Junior Olympic Trap Championships. Here the top three individuals earn an automatic invitation to represent Pennsylvania later this year in Colorado Springs, Colorado for the USA Shooting's National Junior Olympic Shotgun Championships.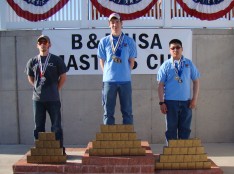 Finishing third in the Pennsylvania Junior Olympic Trap Championships and taking home the bronze medal was Donovan Barry. Donovan had an outstanding weekend and his third place finish seems even more impressive when you factor in that this was his first time participating in the event.
Finishing first and winning the gold medal in the 125 target event was Mark Beardsley. Mark finished third in this event last year so returning this year and being crowned 2013 Pennsylvania State Junior Olympic Trap Champion was a very rewarding accomplishment for Mark.
All of the Mason-Dixon team members who participated in this event did a terrific job this weekend. It was encouraging to see how they handled the ups and downs of a high pressure event such as this. Their respect and encouragement for one another was a shining example for everyone who attended the event.  Not everyone on the team was able to walk away with an award but from where I stood all of the Mason-Dixon boys were golden and I could not have been more proud of them.