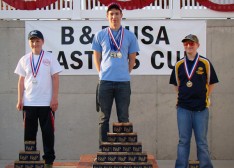 Dalmatia – Pennsylvania's best young trapshooters took the field this past weekend at the 2014 Pennsylvania State Junior Olympic Trap Championship. The competition was hosted at the Keystone Shooting Park on true International Bunker Trap fields, the type of facilities shooters face in national, international, and Olympic events.
Five members of the Mason-Dixon Clay Buster's youth shotgun team, traveled to Dalmatia, Pennsylvania to attend the event held on April 12-13. Mason-Dixon's Mark Beardsley took top honors winning the gold medal breaking 95 out of 125 targets. This is Mark's second consecutive year as Pennsylvania's top junior Olympic trap shooter.
The top three athletes receive awards but also qualify to attend the National Junior Olympic Shotgun Championships in Colorado Springs on July 6-10. Athletes that qualify in Colorado Springs can then attempt to gain a spot on the national Junior Olympic team.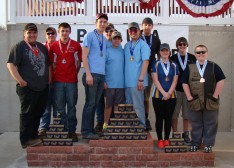 Held concurrently with the Pennsylvania Junior Olympic State Qualifier was the Pennsylvania Scholastic Clay Target Program's (SCTP) Olympic Trap Team Championship.  The squad of Mark Beardsley, Donovan Berry, and Dan Cook from Mason-Dixon took home the Gold Medal in the Open Division.
Based in South Central Pennsylvania, the Mason-Dixon Clay Busters is a Youth Clay Target Shotgun Shooting Sports Team that participates in Trap, Skeet and Sporting Clays. Organized under the Scholastic Clay Target Program (SCTP), Amateur Trapshooting Association's AIM program, and USA Shooting (USAS) the primary focus of all Mason-Dixon Clay Busters activities is firearm SAFETY.
The program is open to youth in grades 6 through College. Shooting experience is beneficial but not required. Along with regularly scheduled practices, team members have the opportunity to showcase their shooting skills in a number of local, state, and national competitions.
To learn more about the Mason-Dixon Clay Busters call (717) 235-0743 or visit their website at www.masondixonclaybusters.com.
###