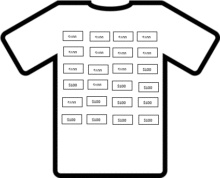 April 28th is the deadline to get all the t-shirt sponsor forms in. Please help us make this fundraiser a success!
The Mason-Dixon Clay Busters is a local youth clay target shotgun shooting sports team. We would like to offer any vendor or business an opportunity to sponsor our team this year. The team will wear your business name on the back of our sponsor t-shirts providing visibility for your business at local, State and National Competitions, as well as around town. The sponsor fees will fund the purchase of the t-shirts and provide funding for our end of year team awards. The cost of a business card size advertisement block is $100. You may combine blocks to create a larger ad for your company logo if you would like.
Click here to download a 2017 SHIRT SPONSOR FORM
If you have any questions or need additional information please contact Alma Rooney 717-817-0529. Our submission deadline is April 28th. Thank you!